Okay, here are my thoughts on the new Alice in Wonderland film. I will try to avoid any spoilers for those of you who have not seen it yet.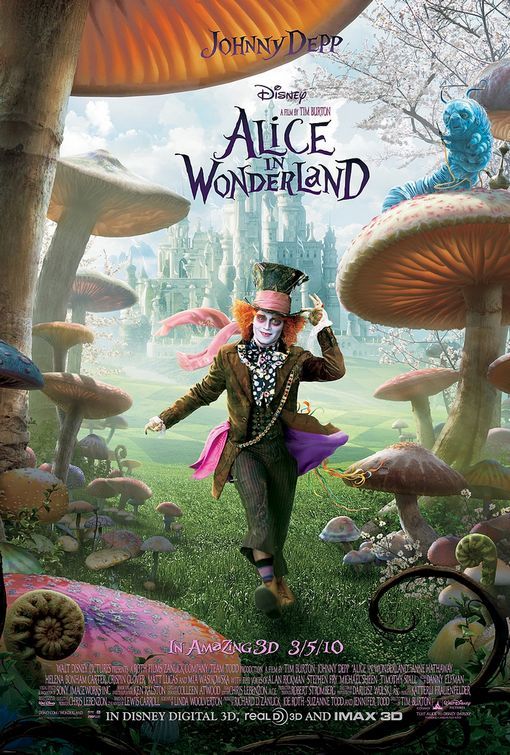 As many of my friends know, I loved the Lewis Carrol books. I even used "Through the Looking Glass" as the basis for an end of term paper in College. I also love Tim Burton Films and Johnny Depp. So as you can imagine I was very excited about this film and overall I found the film very enjoyable. This was largely because the characters were wonderful (I want a blue stripped Cheshire Cat!) and well portrayed and the look of it all was amazing!
Character-wise, Johnny Depp was predictably awesome as the very mad Mad Hatter and Helena Bonham Carter was fantastic as the large headed Red Queen. One of the big surprises for me was how great Anne Hathaway was as the too too good White Queen. The CGI characters were also great, especially the Cheshire Cat, the March Hare and the Tweedles.
In regards to the story, I liked that Burton did not go with the original story, but created a "sequel" with the Wonderland/Looking Glass characters. For the most part the story was good, though at times it seemed a bit rushed and I was not crazy about the battle at the end. It seemed a bit of a formulaic plot in that way. At the same time there were many wonderful touches--like a fantastic mad tea party that I adored.
As for the 3D, I am not sure if it really worked. For me it was more of a distraction and did not add much to the film (as it did with Avatar). This may be because they filmed it in 2D and then added the 3D later so it did not seem as natural and fluid as it did in Avatar.
All in all I really did enjoy it and would recommend that people see it. I actually really want to go and see it again. I would also love to hear other peoples comments once they have seen it.